Markus Oehlen – Mittagspause: Sänger
"I don't believe in honest painting. I love a mix of photography, graphics, painting and sculpture."
Markus Oehlen was born in Krefeld in 1956. Son of the graphic designer Adolf Oehlen, he became fascinated by drawing and painting from an early age. He studied at the Düsseldorf Academy of Art and became an apprentice of the Swiss painter, sculptor and graphic artist Alfonso Hüppi.
In the 1970s, together with his brother Albert Oehlen, Martin Kippenberger, André Butzer and others, he founded the "Neue Wilde" group. Recalling the chaos of the counterculture, the group protested against the concept of the purity of the surface expressed by Minimalism movement and have stood against the bourgeois values inherent to the academic ideas.
During this time the group was involved in several Punk bands, such as Mittagspause. The layering of stylistic elements in Oehlen's work can be compared to the musical sampling, in fact his paintings are comparable to the acoustic vibrations that pass through the observer's retina.
The combination of different elements in his paintings create a richly multifaceted pictorial language, characterized by overlapping motifs, bright colors and graphic experiments oriented towards other media, such as computer grids and video lines. In addition there are also figurative allusions that settle in a perfect way in the fantastic macrocosm of his works.
By alternating the concrete and the abstract, the viewer discovers what he has always looked for, thanks to his expectations, experiences, needs, knowledge and imagination. The title in this case guide this journey: Mittagspause: Sänger (Mittagspause: Singers) marks the beginning of the exploration and research within the framework of elements that lead back to the artist's band.
Figures of the singers, objects or obscure presences are assembled together thanks to lines, geometric shapes and ribbon structures that project always new connections and overlaps. The shapes grow together with the lines and connect to a vibrant and restless texture, which is immediately surrounded by calm pictorial areas, with vertical and horizontal lines.
Markus Oehlen has held solo exhibitions at the Künstlerhaus Hamburg, MoMA (New York), Universidad Internacional Menendez Pelayo, Santander Kunstsammlung Chemnitz and group exhibitions in various museums such as Nationalgalerie Berlin and ZKM Karlsruhe.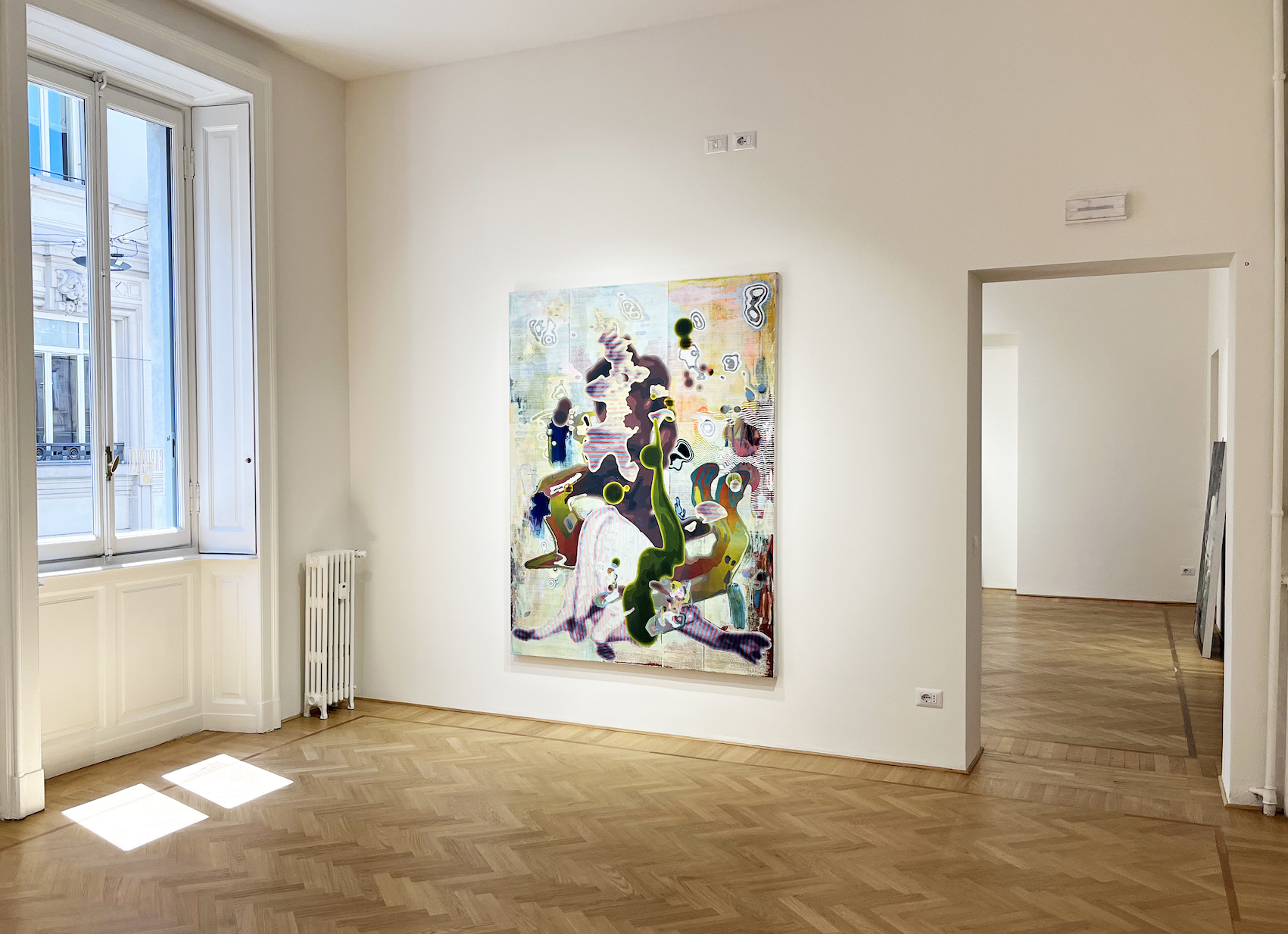 Installation view at Studio Gariboldi