Katsumi Nakai was born in 1927 in Hirakata, Osaka. He studied painting at the Institut of Fine Arts of Osaka and after completing his studies he participated to several collective exhibitions. In 1956 he had his first solo show at the gallery Omote and in 1958 he founded, with other seven avant-garde artists, the Tekkeikai group.
In the spring of 1964, when he was 37 years old, as many Japanese artists of the time, he decided to visit Europe and the United States. His path took him to Milan, a city that impressed him profoundly to become the last stage of his trip "following the sun".
Nakai became close to the circle of artists that in 1967 the art critic Guido Ballo described as the "New Milanese School". Among them he got to know Tomonori Toyofuku and Lucio Fontana, who will play a fundamental role in the formation of his artistic vision.
The artist returned to live in Japan in 1996 and he died in Hirakata in 2013.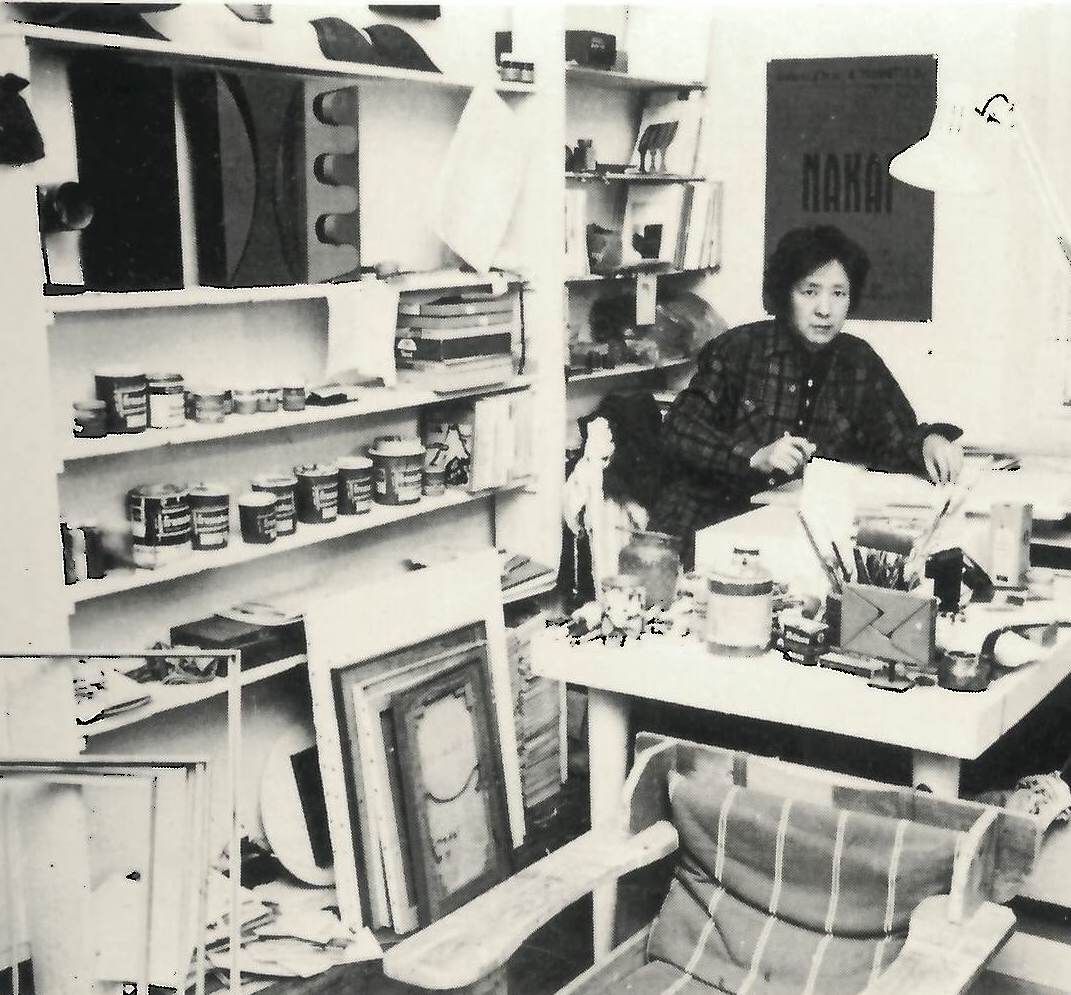 © Galleria del Naviglio, Milan
GALLERY
SELECTED SOLO EXHIBITIONS
1956
Omote Gallery, Osaka, Japan
1957
Omote Gallery, Osaka, Japan
1958
Hakuho Gallery, Osaka, Japan
1960
Umeda Gallery, Osaka, Japan
1961
Nakanoshima Gallery, Osaka, Japan
1962
Osaka Forme Gallery, Osaka, Japan
1963
Mudo Gallery, Tokyo, Japan
Osaka Forme Gallery, Osaka, Japan
1964
Osaka Forme Gallery, Osaka, Japan
1965
Galleria del Cavallino, Venice, Italy
1966
Galleria L'Argentario, Trento, Italy
1967
Galleria del Naviglio, Milan, Italy
1970
Galleria L'Argentario, Trento, Italy
1972
Christian Stein Gallery, Turin, Italy
Galleria del Naviglio, Milan, Italy Gi3 Gallery, Seregno, Italy
Il Gelso Gallery, Lodi, Italy
1973
Galleria D'Arte Il Salotto, Como, Italy
1975
Santoro Gallery, Rome, Italy
1976
Galleria del Naviglio, Milan, Italy
Galleria Traghetto, Venice, Italy
1977
Giuli Gallery, Lecco, Italy
Leggi tutto
SELECTED GROUP EXHIBITIONS
1953-59
Dokuritsu Bijutsu Kyokai, Independent Association of Art, Japan
1959
Kansai Sogo, Yomiuri Shimbun Award, Osaka, Japan
3rd Shell Art Award, Kamakura, Japan
1960
Young Art Collectors, Houston Museum of Fine Arts, Houston, USA
Iron and Steamed Chair Exhibition, Kyoto Municipal Art Museum, Kyoto, Japan
1961
Tekkeikai Group Exhibition, Kyoto, Municipal Museum of Art. Kyoto, Japan
1962
2nd Maruzen Petroleum Art Prize, Honorable Mention Award, Osaka, Japan
Spring Exhibition of the Tekkeikai Group, Association Fujikawa Gallery, Fujikawa, Japan
1963
Tekkeikai Group Exhibition, Kyoto Municipal Museum of Art, Kyoto, Japan
1966
Mostra Gioco Degli Artisti, Galleria del Naviglio, Milan, Italy
1967
Omaggio allo Spazialismo, Galleria d'Arte Moderna, Milan, Italy
1968
1st Prize Premio Piazzetta, Milan, Italy
Mostra Omaggio a Carlo Cardazzo, Galleria Il Punto, Turin, Italy and Galleria Regis, Finale Ligure, Italy
Galleria Navigliovenezia, Venice, Italy
1969
Incontro tra Bertone e Lamborghini, Galleria del Naviglio, Milan, Italy
John Cage e gli artisti del Naviglio, Galleria del Naviglio, Milan, Italy
1970
3rd Biennale di Menton, Menton, France
Italian Art Dealer Exchange, Palazzo della Permanente, Milan, Italy Galleria l'Argentario, Trento, Italy
3rd Edizione Premio Ambizioni Moderate, Milan, Italy
1971
Bon À Tirer Gallery, Milan, Italy
1972
Galleria Christian Stein, Turin, Italy
Mostra di Arte Contemporanea Giapponese, Milan, Italy
Vetrate di Artisti Contemporanei, Stained Glass and mosaic, Seregno, Italy
Mostra di Arte Contemporanea 72, Sovico, Italy
Japanese Artists in Europe, National Museum of Modern Art, Tokyo and Kyoto, Japan
Leggi tutto