Mario Deluigi (1901-1978) was born in Treviso, the last child, with his twin Maria, of eleven children. After obtaining a diploma at the artistic high school, he enrolled at the Fine Art Academy of Venice, where he followed the course of painting of Ettore Tito and attended Virgilio Guidi lessons. His exhibition activity started in 1928 when he participated to the XIX group exposition of Opera Bevilacqua La Masa and exhibited his works at the Venice Biennale in 1930. From 1942 to 1944 he will be the assistant of Arturo Martini at the Fine Art Academy of Venice.
In 1944 he had his first solo show at the Galleria del Cavallino and in 1946, together with Carlo Scarpa an Anton Giulio Ambrosini, he founded the Free School of Plastic Arts (Scuola Libera di Arti Plastiche). In the same year he was called to teach scenography at the University Institute of Architecture of Venice, where he would remain until the 1971. In 1946 he won the Premio Burano and in 1947 the Premio Abano. In the first years of 1950s the artist turned more and more towards the abstraction.
In fact in 1951 Mario Deluigi signed the Manifesto dell'arte spaziale (Manifesto of the Spatial Art) and in 1952 the Manifesto del movimento spaziale per la televisione (Manifesto of the Spatial movement for the television). The peculiarity of his art-making process is highlighted by the new art technique: the grattage. This technique was already well defined in the series of paintings, titled Motivi sui vuoti, which he exhibited in 1954 at the Venice Biennale.
During the 1960's and 1970's Deluigi kept up his research regarding the light and took part in multiple national and international exhibitions.
The artist died in Venice in 1978.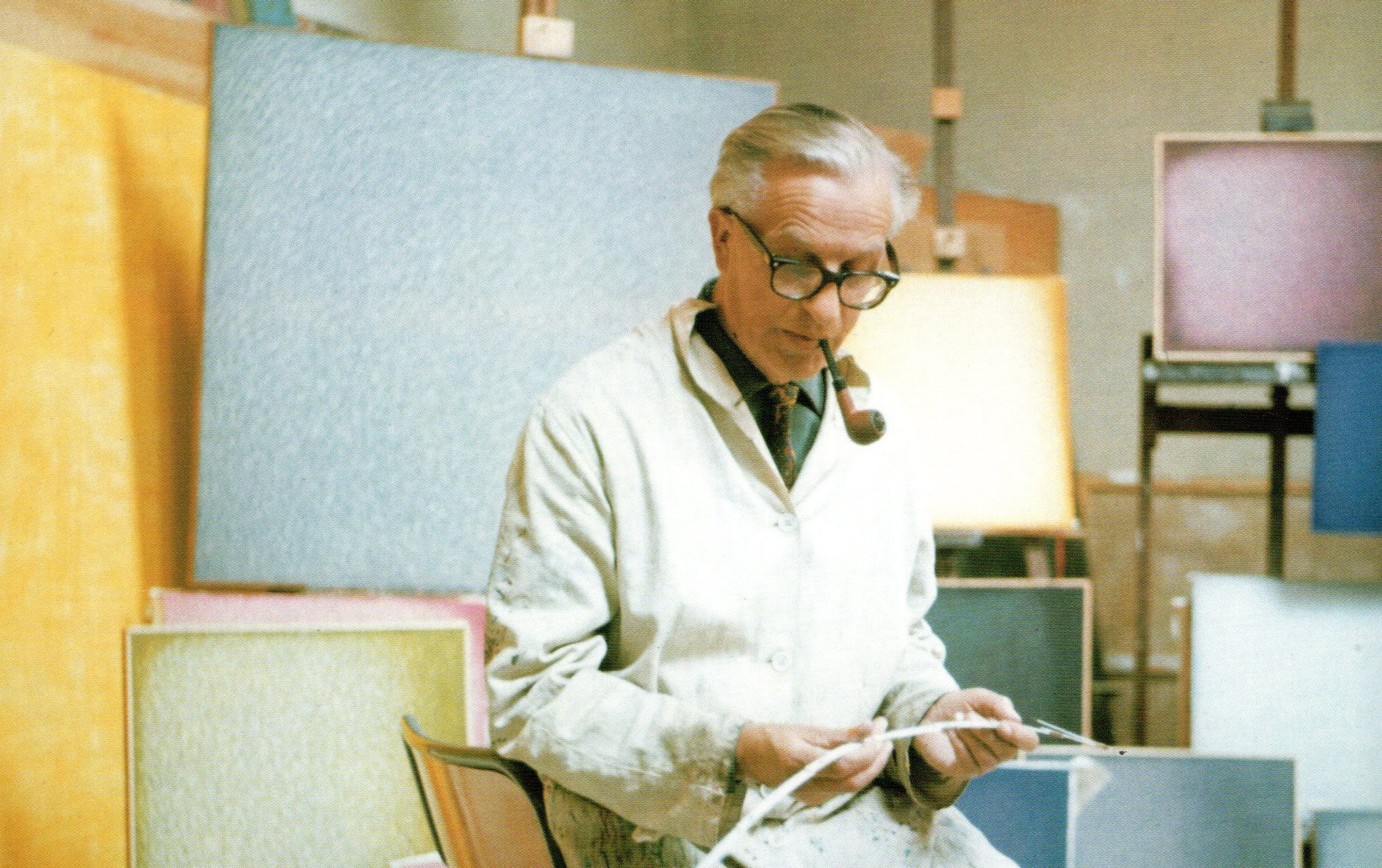 Mario Deluigi in his studio © Archivio Mario Deluigi
GALLERY
SELECTED SOLO EXHIBITIONS
1944
Galleria del Cavallino, Venice
1947
Galleria del Naviglio, Milan
1951
Galleria del Naviglio, Milan
1953
Galleria del Cavallino, Venice
1955
Galleria del Naviglio, Milan
1956
Galleria S. Matteo, Genua
Galleria del Cavallino, Venice
1957
Galleria Selecta, Rome
Galleria del Cavallino, Venice
1958
Galleria del Naviglio, Milan
1961
Galleria del Cavallino, Venice
1962
XXXI Biennale Internazionale d'Arte, Venice, (personal room) Galleria Ferrari, Verona
1963
Galleria l' Argentario, Trento
1964
Galleria del Naviglio, Milan
1965
Galleria di Barbara, Treviso
Galleria l' Aquilone, Urbino
1966
Fondazione Querini Stampalia, Venice
1968
XXXIV Biennale Internazionale d'Arte, Venice (personal room)
1971
Galleria Martano/Due, Turin
1972
Galleria del Naviglio, Milan
1973
Studio d'Arte Eremitani, Padua
Galleria del Cavallino, Venice
Galleria Tinoghelfi, Vicenza
1974
Centro Iniziative per l' Arte e la Cultura, Palazzo Kechler, Udine
Leggi tutto
SELECTED GROUP EXHIBITIONS
1923
IV Mostra d'Arte Trevisana, Treviso (with a pseudonym L. Scaglione)
1928
XIX Opera Bevilacqua La Masa, Venice
1929
XX Opera Bevilacqua La Masa, Venice
1930
XVII Biennale Internazionale d'Arte, Venice
1931
Juti Ravenna, Antonio Pinto, O. M. Deluigi, Galleria Asta, Venice
1932
XVIII Biennale Internazionale d'Arte, Venice (Decorative Arts section)
1933
5 pittori veneti, Galleria del Milione, Milan
1935
Mostra di opere di pittura, scultura in bianco e nero pro assistenza artisti, Circolo delle Arti, Venice
1937
XXVIII Opera Bevilacqua La Masa, Venice
1944
Settimana del profugo, Salone dell' Ala Napoleonica, Venice
16 pittori e due scultori, Piccola Galleria, Venice
1945
Disegni alla Piccola Galleria, Venice
Collettiva d'Arte Moderna, Galleria S. Marco, Venice
1946
Wins the 1° prize at the exhibition of Premio "Burano", Venice
Painting Prize "La Colomba", Venice
Tribute to Russian literature, Italian Association for cultural relations with U.R.S.S. Venice section
1947
Wins the prize "Abano", Abano Terme
1948
XXIV Biennale Internazionale d'Arte, Venice
1949-1950
Peinture Venitienne Contemporaine, Palais des Arts, Toulouse
Rassegna di Pittura Italiana Contemporanea, Ala Napoleonica, Venice
Prize exhibition "Giacomo Favretto", Ordine degli Amici de "La Valigia", Venice
V Mostra d'Arte Contemporanea Italiana, Galleria Antico Martini, Venice
Italienische Malerei der Gegenwart, Istituto Italiano di Cultura e Art Club Osterreich, Vienna
1950
Natale nell' Arte, Milan
XXV Biennale Internazionale d'Arte, Venice
Venetians artists exhibition in Sardinia, Cagliari
I Exhibition "del Fiorino", Gallerie dell'Accademia, Florence
Leggi tutto