Jean Messagier (Paris 1920-1999) is a French painter, sculptor, printmaker and poet, considered the leader of lyrical abstraction and a member of the Paris School art movement.
He spent his childhood between Paris and Franche-Comté (a historical and cultural region in eastern France), and it was here, in 1940, that he began to produce his first watercolours. In 1941, he made his debut at the group exhibition Salon des Moins de Trente Ans, and from then on he regularly participated in Parisian salons (1941-1953) and group exhibitions in Zurich, Florence, London and New York. In 1943, at the age of 23, the artist held his first solo exhibition in the Château de Montbéliard, and in 1947 his first solo exhibition in Paris at the Galerie Arc-en-Ciel.
From 1945 to 1949, he worked under the influence of Pablo Picasso, André Masson, Paul Klee and François Desnoyer, his professor at the École nationale supérieure des Arts Decoratifs in Paris. In 1952, his works were exhibited at the Galerie de Babylone, on the occasion of the exhibition 'La Nouvelle École de Paris' (The New School of Paris).
Messagier never accepted any label and rejected the distinction between abstraction and figuration, but was often associated with Lyrical Abstraction and Art Informel.
The French artist became a co-founder of the Salon d'Octobre in Paris and exhibited there in 1952 and 1953. Informel became the dominant expression of the time, not only among critics, poets and artists, but also among scientists and philosophers, such as Merleau-Ponty and Bachelard. For Messagier, painting (and drawing) became the medium through which the universe spoke.
Between 1953 and 1956, the artist refined his pictorial vocabulary to include a kind of symmetry, closer in spirit to W. Blake than to the Constructivists. His paintings of this period evoke a state of suspended animation, a dream world like that conceived by Mallarmé. The allusive, dissolved forms he had painted up to this point give way to vast, indeterminate expanses of monochrome colour, expressing Messagier's unwavering commitment to nature, air and light.
During these years, the artist presented his work in the major exhibition at the Volney Cercle in Paris (1955), while between 1962-1965 he represented France in several biennials, including the Venice Biennale and the São Paulo Art Biennale in Brazil. From 1962 onwards, he exhibited in France and abroad.
The artist's works can be found in the world's major museums, including the Centre Georges Pompidou-Beaubourg in Paris.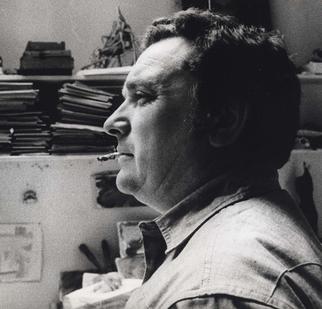 SELECTED SOLO EXHIBITIONS
2021
Jean Messagier – Paradiana, Galerie Ceysson & Bénétière
website being updated
SELECTED GROUP EXHIBITIONS
2023
Art Works $1,000 or less, Alpha 137 Gallery
2022
Rare and Collectible Artist Books, Alpha 137 Gallery
The Mid Century Modern Aesthetic, Alpha 137 Gallery
website being updated