Pol Bury (Belgium, La Louvière, 1922 – France, Paris, 2005) is a Belgian sculptor and painter.
A student at the Academy of Fine Arts in Mons (1938), Pol Bury was also a writer, jewellery maker and maker of experimental short films.
During the 1940s he met Achille Chavée, Uves Tanguy and Rene Magritte and worked for the collective magazine L'Invention. In 1945 he exhibited at the International Surrealist Exhibition at the Maeght Gallery in Paris.
From the mid-1940s, he began to devote himself to abstract works, going beyond the representational and thematic approach of the Surrealists. He thus joined the group of La Jeune Peinture Belge (founded in 1945), which disbanded in 1948.
A meeting with Alexander Calder in 1950 at the Galerie Maeght, which led Bury to devote himself to sculpture, would be fundamental to his artistic development. Pol Bury was also one of the founders of the Abstract Art group, approaching both the work of Piet Mondrian and the style of Joan Miró.
The artist made his debut in 1953 at the Apollo Gallery in Brussels with his 'Movable Planes', rectangular geometric shapes fixed on an axis that the viewer can animate at will. In 1954, the year kinetic art began, he created panels consisting of vertical oblique blades covered with coloured geometric compositions on a black background, the reading of which varies according to the visual angle taken by the observer.
In 1955 Bury participated in the exhibition 'The Movement' organised by the Denise René gallery, alongside Alexander Calder, Marcel Duchamp, Robert Jacobsen, Jaacov Agam, Soto, Jean Tinguely and Victor Vasarely.
It was in 1958 that the artist took full possession of his plastic language, creating plays of light, spheres and mercury marbles. In 1961 Pol Bury moved to France, where he produced the series 'Ponctuations érectiles', comprising works composed of metal bases with nylon threads, which create a relationship between moving and immobile parts.
During the same period, he became a professor at the National School of Fine Arts with the chair of Monumental Sculpture until 1987.
His sculptures evolved further in the following years, when the artist created monumental works, in particular the metal fountains, which can be seen at the Maeght Foundation, the Guggenheim Museum and Palais-Royal in Paris.
From the 'Mobile Planes' of 1953, inspired by the works of Alexander Calder, to the monumental metal fountains, Bury never stopped experimenting throughout his life, constantly searching for new ways to animate his creations.
Among his most famous works is the marble and steel fountain-sculpture Octagon, located in the Financial District of San Francisco, USA.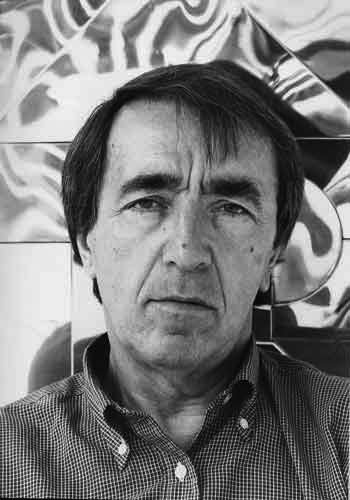 SELECTED SOLO EXHIBITIONS
2022
Pol Bury: Centenaire/ Centenial, RCM Galerie
2020
Pol Bury, RCM Galerie
website being updated
SELECTED GROUP EXHIBITIONS
2022
Holiday Seasons: Gift ideas, RCM Galerie
DIGITAL ETC.: SUMMER WORKS ON PAPER, RCM Galerie
2021
FROM DIGITAL TO ANALOG: SUMMER WORKS ON PAPER, RCM Galerie
Abstraction on Paper, RCM Galerie
2020
Selected Optical and Kinetic Works by Gutan Art Gallery, Gutan Art Gallery
Man Cave Decor, ArtWise
'CE MOUVEMENT QUI DEPLACE LES LIGNES', La Patinoire Royale | Galerie Valerie Bach
In Motion, Louisa Guinness Gallery
2019
Inside Photography, Galleria Alfieri
#ArtWiseUP: Designer Series – B&W Photography, ArtWise
2017
Art as Jewellery: An Exhibition, Louisa Guinness Gallery
Derrière Le Miroir, Jules Maeght Gallery
2015
Landscapes of Belgium, Musée d'Ixelles
ZERO – Die internationale Kunstbewegung der 50er und 60er Jahre, Martin Gropius Bau
2014
Art in Motion – Inaugural Exhibition, Jules Maeght Gallery
website being updated