Nobuya Abe was born in 1913 in Niigata, Japan. Self-taught, he started to paint after finishing his high school studies. His artistic career began with the participation to various collective exhibitions. From 1936 to 1938 he traveled in Mongolia, Korea, Manchuria and North China studying oriental art. From 1939 to 1942 and from 1947 to 1953 Abe exhibited with the group Bijutsu Bunka Kyokai, which was the first Japanese surrealist movement. This last, also called L'Illumination, formed an avant-garde current in Japan. In the group coexisted two tendencies: the first one was influenced by surrealism, that explored the most profound levels of the human psychology, the second, to which Abe belonged, was inspired by organic abstraction.
In 1949 he became a member of The Executive Committee of the Japanese Artists' Association and represented Japan at the Second International Art Exhibition in New Delhi. In the following years he served on juries of Venice Biennale, São Paulo Bienal, Guggenheim International Award Exhibition in New York; he participated as an expert at the Lissone Award and wrote numerous art essays. After several important solo shows, among which the exhibitions at the Yoseido Gallery in Tokyo and at the Galleria del Grattacielo in Milan, Abe decided to settle in Italy, particularly in Rome. During the following years his works were exhibited in important Italian galleries.
Being in a constant contact with the European and Milanese art scene – where artists like Manzoni and Fontana worked – his presence in the capital became crucial to open a dialogue between various avant-garde movements of the moment, such as Zero group and Spatialism, including those from Japan.
In 1966 he participated in the group exhibition The New Japanese Painting and Sculpture at MoMa, which included 46 Japanese artists. Throughout the year 1967 the exhibition travelled to various museums in the United States. In 1967 he decided to go back to the idea of L'Illumination and put together a group of 6 talented artists who followed his same thought: the color is light.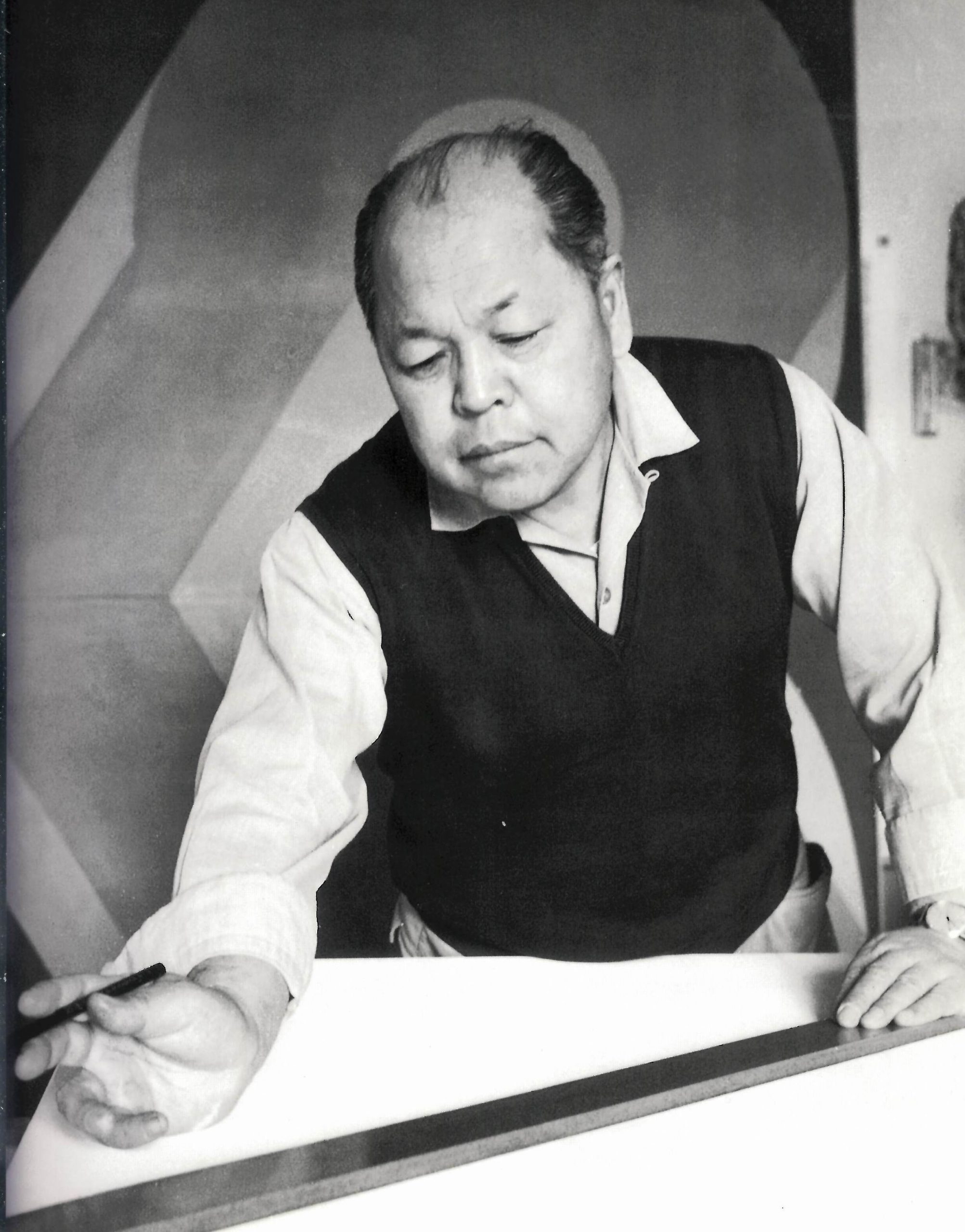 © Galleria del Naviglio, Milano
GALLERY
SELECTED SOLO EXHIBITIONS
1952
Mostra personale a Tokyo, Giappone
1956
Solo exhibition, Museum
1954-1955
Yoseido Gallery, Tokyo, Japan
1956
Japanese Watercolor Museum, Tokyo, Japan
1957
Yoseido Gallery, Tokyo, Japan
1960
"Indefinite space", Shirokiya Salon di Tokyo, Japan
Galleria del Grattacielo, Milan
1961
Galleria Alibert, Rome
1962
Galleria George Lester, Rome
Solo exhibition (litographs), Istanbul, Turkey
"Nobuya Abe", Galleria del Cavallino, Venice
"Nobuya Abe", Galleria Cadario, Milan
1963
With the Galleria Cadario at Palazzo Strozzi, Florence
1964
"Nobuya Abe", Galleria del Naviglio, Milan
1965
Abstract and Fantastic Art exhibition, Museum of Modern Art of Tokyo, Japan
1965
"Nobuya Abe", Galleria del Cavallino, Venice
1967
"Nobuya Abe", Galleria d'arte l'Argentario, Trento
Galleria del Naviglio, Milan
1970
"Nobuya Abe", Galleria d'arte l'Argentario, Trento
1977
"in memory of Nobuya Abe", Galleria d'arte l'Argentario, Trento
2020
"Nobuya Abe", Studio Gariboldi, Milan
SELECTED GROUP EXHIBITIONS
1945-53
Exhibits regularly in the Bijutsu Bunka Kyokai group exhibitions
1949
Japanese Artists exhibition, Delgrado Museum, New Orleans
1951
Carnegie International
Exhibitions of the American Federation of Arts
1952
Sao Paolo Biennale, Brasil
Takemiya Gallery, Tokyo, Japan
Exhibition of thirty Japanese artists that live in the United States
1952-1962
International Art Exhibition, Tokyo Biennale, Japan
1953
II International Art Exhibition, India
1961
Galleria Schwarz, Milan
Anti-Proces group exhibition
Galleria Pater, Milan
Graphics Biennale of Lubiana, Slovenia
Galleria Ferrari, Verona
1962
Group exhibition of lithographs by Italian artists, Yoseido Gallery, Tokyo, Japan
1963
Galleria Cadario, Milan
Biennale del Piccolo Formato, Palermo
"Opere degli artisti giapponesi in Italia", Istituto Giapponese di Cultura, Rome
1964
Lithographs exhibition, Galleria Pagani, Milan
II Festival of Plastic Arts of Costa Azzurra
"Intenational Exhibition", Galleria Quindici, Bologna
Galleria George Lester, Rome
Carnegie International, Pittsburgh, US
1965
"V Rassegna di arti figurative di Roma e Lazio", Rome
"Zero Avantgarde", Galleria del Cavallino, Venezia then Milan and Turin
"Convergenze", Galleria d'arte della Casa do Brasil, Rome
Leggi tutto