Raymond Parker (1922-1990) was an Abstract Expressionist, also linked to Color Field painting and Lyrical Abstraction and considered a crucial figure of the Post-Painterly Abstraction movement.
Parker was born in 1922 in South Dakota. After graduating at the State University of Iowa (Iowa City), he moved to New York in 1951. After a few years, he was hired as a Professor of Art at Hunter College.
In the 1950s he participated to a number of personal and collective exhibitions in various galleries and important museums such as the Metropolitan Museum of Art e Whitney Museum of American Art.
Between the 1958 and 1965 Parker created the Simple Paintings series, characterized by big white canvases with ethereal, colorful and floating forms. His working method was improvisational and quite aggressive. There was no plan of action or preliminary sketches, only a bare canvas tacked to the wall in front of him. The value of the "gesture" painting was not so much its newness or radicality but most of all its method of self-exploration.
In the 1970s and 1980s Parker moved away from the concept of the Simple Painting towards a more sinuous style that allowed freedom of movement.
His work is included in various important collections such as Whitney Museum of American Art, The Museum of Modern Art, the Solomon R. Guggenheim Museum, the Museum of Fine Arts (Houston), Tate Gallery (Londra) and Los Angeles Museum of Art.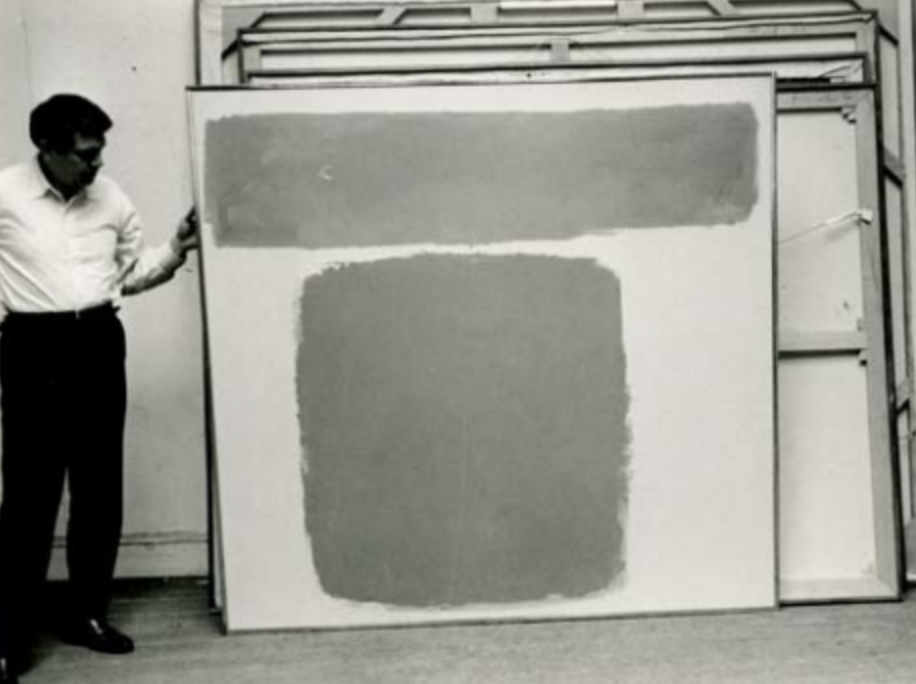 GALLERY
SELECTED SOLO EXHIBITIONS
1949
Rochester Art Center, Rochester
1950
Walker Art Center, Minneapolis
1953
Paul Kantor Gallery, Los Angeles
Memphis Academy of Art, Memphis
1954
Louisville Art Center, Louisville, KY
1955
Union College Gallery, Scenectedy, NY
1956
Paul Kantor Gallery, Los Angeles
1957
Martin Widdifield Gallery, New York
1959
University of Southern California, Los Angeles
1960
Galerie Lawrence, Paris
Galerie Neufville, Paris
Kootz Gallery, New York, also: 1961, 1962, 1963, 1966
1961
Galleriea dell'ariete, Milan
Bennington College, Bennington, VT
Dwan Gallery, Los Angeles, also 1962
The Solomon R. Guggenheim Museum, New York
1965
Dayton Art Institute, Dayton, OH
1966
Gertrude Kasle Gallery, Detroit, also 1970
Washington Gallery of Modern Art, Washington, DC
1967
San Francisco Museum of Art, San Francisco
University Art Museum, University of New Mexico, Albuquerque
1970
Molly Barnes Gallery, Los Angeles
Fischbach Gallery, New York, also: 1973, 1974
Quay Gallery, San Francisco, also 1972, 1974
1971
School of Visual Arts, New York
1974
Berenson Gallery, Miami
Elaine Benson Gallery, Bridgehampton, also 1980
David Berger Gallery, Pittsburgh
Portland Center for the Visual Arts, Portland, OR
1975
American University, Washington, DC
Leggi tutto
SELECTED GROUP EXHIBITIONS
1949
"Second Biennial Exhibition," Walker Art Center, Minneapolis, MN
1950
"New Talent Exhibition," The Museum of Modern Art, New York
"Annual Exhibition of Contemporary Painting," The Whitney Museum of American Art, New York
"American Painting Today," The Metropolitan Museum of Art, New York
1951
Allen Memorial Art Museum, Oberlin College, Oberlin, OH
1952
"Annual Exhibition of Contemporary Painting," The Whitney Museum of American Art, New York
1954-56
"Stable Annual," Stable Gallery, New York
1956
"Vanguard 1956," Walker Art Center, Minneapolis, MN
Poindexter Gallery, New York
1957
"American Painting Exhibition," Minneapolis Institute of Art, Minneapolis, MN
1957-58
"International Exhibition of Painting," traveled throughout Japan (U.S. representatives selected by The Museum of Modern Art)
1958
"Annual Exhibition of Contemporary Painting," The Whitney Museum of American Art, New York
1960
"60 American Painters," Walker Art Center, Minneapolis, MN
1961
"Abstract Expressionists and Imagists," The Solomon R. Guggenheim Museum, New York
"Recent Painting and Sculpture," The Museum of Modern Art, New York (traveled in the United States October 1961 to June 1963)
1962
"Art Since 1950," Seattle World's Fair, Seattle, WA
The Gifford and Joann Phillips Collection, UCLA Art Galleries, Los Angeles, CA
1962-63
Biennial, Corcoran Gallery of Art, Washington, D.C.
"Three Former Iowans," Des Moines Arts Center, Des Moines, IA
"Biennial," University of Illinois, Urbana, IL
1963
"Toward a New Abstraction," The Jewish Museum, New York
Corcoran Gallery of Art Biennial, Washington, D.C.
"Black and White," The Jewish Museum, New York"Annual Exhibition of Contemporary Painting," The Whitney Museum of American Art, New York
1963
"New Directions in American Painting," Rose Art Museum, Brandeis University, Waltham, MA
1964
"Carnegie International," Carnegie Institute, Pittsburgh, PA
"Post Painterly Abstraction," Los Angeles County Museum of Art, Los Angeles, CA
Other venues: Walker Art Center, Minneapolis, MN; Art Gallery of Toronto, Toronto, Canada
"67th Annual Exhibition of American Painting," Art Institute of Chicago, Chicago, IL
"American Art Since 1950," Brandeis University, Waltham, MA
"Painting of a Decade 1956-64," The Tate Gallery, London, England
"Black, White and Gray," Wadsworth Athenaeum, Hartford, CT
"Selections from the Guggenheim Museum," Italian Pavilion, Venice Biennial
Leggi tutto