Raymond Parker (1922-1990) era un espressionista astratto americano, associato alla pittura Color Field e alla Lyrical Abstraction. È inoltre considerato una figura determinante del movimento denominato Post-Painterly Abstraction.
Parker è nato nel 1922 in South Dakota. Dopo essersi laureato alla facoltà delle Belle Arti all'Università di Iowa (Iowa City), nel 1951 si trasferisce a New York dove pochi anni dopo viene assunto dal Hunter College come professore di arte.
Negli anni '50 partecipa a molteplici mostre personali e collettive in diverse gallerie e musei come il Metropolitan Museum of Art e Whitney Museum of American Art. Tra il 1958 e il 1965 realizza la serie di Simple Paintings, caratterizzata da grandi tele bianche sulle quali fluttuano forme eteree e colorate. Il metodo di Parker era improvvisato e piuttosto aggressivo. Non c'era nessun piano d'azione premeditato né alcuno schizzo preliminare, solo la tela bianca appesa al muro davanti all'artista. Il valore della pittura "di gesto" non era basato solo sulla novità o radicalità, ma soprattutto sulla possibilità dell'esplorazione del proprio io.
Negli anni '70 e '80 Parker si allontana dal concetto del Simple Painting verso uno stile più sinuoso che gli concede più libertà di movimento.
I suoi lavori sono presenti in diverse importanti collezioni, come Whitney Museum of American Art, The Museum of Modern Art, the Solomon R. Guggenheim Museum, the Museum of Fine Arts (Houston), Tate Gallery (Londra) e Los Angeles Museum of Art.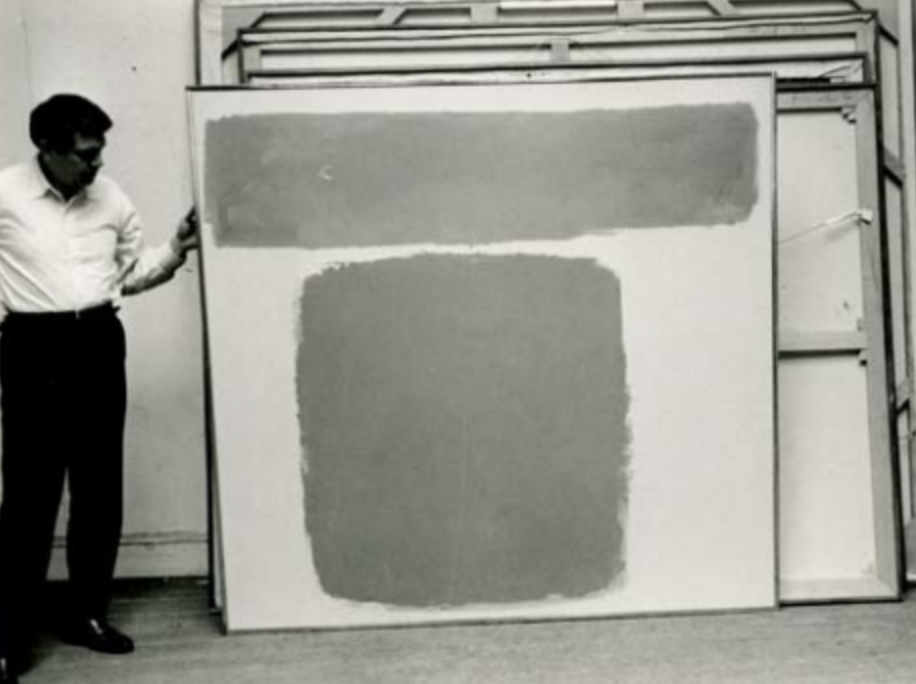 In Galleria
PRINCIPALI MOSTRE PERSONALI
1949
Rochester Art Center, Rochester
1950
Walker Art Center, Minneapolis
1953
Paul Kantor Gallery, Los Angeles
Memphis Academy of Art, Memphis
1954
Louisville Art Center, Louisville, KY
1955
Union College Gallery, Scenectedy, NY
1956
Paul Kantor Gallery, Los Angeles
1957
Martin Widdifield Gallery, New York
1959
University of Southern California, Los Angeles
1960
Galerie Lawrence, Parigi
Galerie Neufville, Parigi
Kootz Gallery, New York, also: 1961, 1962, 1963, 1966
1961
Galleriea dell'ariete, Milano
Bennington College, Bennington, VT
Dwan Gallery, Los Angeles, anche 1962
The Solomon R. Guggenheim Museum, New York
1965
Dayton Art Institute, Dayton, OH
1966
Gertrude Kasle Gallery, Detroit, anche 1970
Washington Gallery of Modern Art, Washington, DC
1967
San Francisco Museum of Art, San Francisco
University Art Museum, University of New Mexico, Albuquerque
1970
Molly Barnes Gallery, Los Angeles
Fischbach Gallery, New York, anche: 1973, 1974
Quay Gallery, San Francisco, anche 1972, 1974
1971
School of Visual Arts, New York
1974
Berenson Gallery, Miami
Elaine Benson Gallery, Bridgehampton, anche 1980
David Berger Gallery, Pittsburgh
Portland Center for the Visual Arts, Portland, OR
1975
American University, Washington, DC
Leggi tutto
PRINCIPALI MOSTRE COLLETTIVE
1949
"Second Biennial Exhibition," Walker Art Center, Minneapolis, MN
1950
"New Talent Exhibition," The Museum of Modern Art, New York
"Annual Exhibition of Contemporary Painting," The Whitney Museum of American Art, New York
"American Painting Today," The Metropolitan Museum of Art, New York
1951
Allen Memorial Art Museum, Oberlin College, Oberlin, OH
1952
"Annual Exhibition of Contemporary Painting," The Whitney Museum of American Art, New York
1954-56
"Stable Annual," Stable Gallery, New York
1956
"Vanguard 1956," Walker Art Center, Minneapolis, MN
Poindexter Gallery, New York
1957
"American Painting Exhibition," Minneapolis Institute of Art, Minneapolis, MN
1957-58
"International Exhibition of Painting," diverse città del Giappone 1958
"Annual Exhibition of Contemporary Painting," The Whitney Museum of American Art, New York
1960
"60 American Painters," Walker Art Center, Minneapolis, MN
1961
"Abstract Expressionists and Imagists," The Solomon R. Guggenheim Museum, New York
"Recent Painting and Sculpture," The Museum of Modern Art, New York 1962
"Art Since 1950," Seattle World's Fair, Seattle, WA
The Gifford and Joann Phillips Collection, UCLA Art Galleries, Los Angeles, CA
1962-63
Biennial, Corcoran Gallery of Art, Washington, D.C.
"Three Former Iowans," Des Moines Arts Center, Des Moines, IA
"Biennial," University of Illinois, Urbana, IL
1963
"Toward a New Abstraction," The Jewish Museum, New York
Corcoran Gallery of Art Biennial, Washington, D.C.
"Black and White," The Jewish Museum, New York"Annual Exhibition of Contemporary Painting," The Whitney Museum of American Art, New York
1963
"New Directions in American Painting," Rose Art Museum, Brandeis University, Waltham, MA
1964
"Carnegie International," Carnegie Institute, Pittsburgh, PA
"Post Painterly Abstraction," Los Angeles County Museum of Art, Los Angeles, CA
Other venues: Walker Art Center, Minneapolis, MN; Art Gallery of Toronto, Toronto, Canada
"67th Annual Exhibition of American Painting," Art Institute of Chicago, Chicago, IL
"American Art Since 1950," Brandeis University, Waltham, MA
"Painting of a Decade 1956-64," The Tate Gallery, London, UK
"Black, White and Gray," Wadsworth Athenaeum, Hartford, CT
"Selections from the Guggenheim Museum," Padiglione italiano, Biennale di Venezia
Leggi tutto