Maurice Estève (Culan, 1904 – 2001) is a French painter. Mostly self-taught, he was active in graphics, stained glass, textile design and collages. He is known for his lyrical experiments with strong colors and interlocking forms. The 1910s and 20s played a crucial role to form his artistic taste and enthusiasm. His visit to the Louvre in 1913 impacted him mostly through works of Paolo Uccello. Spending several years during the World War I back in Culan, he settled in Paris in 1918 and was employed as a typographer's apprentice. In 1923 he worked as a textile designer in Barcelona. In 1924 he began the education attending the Académie Colarossi in 1924, the only formal training he had. Here, he was exposed to Cubism and implemented motifs from the model of Geroges Braques and Fernand Léger, as well as admiring those of Robert Delaunay.
He was also interested in works of Jean Fouquet, Nicolas Poussin, and also Paul Cézanne. He extended his passion appreciating Fernand Léger and George Braque's works, which helped him later integrate his passion in art with abstraction inspired by Surrealism and Abstract Expressionism.
From 1929 to 1938 he exhibited regularly at the Salon des Surindépendants in Paris and had a first solo exhibition was held by the Galerie Yvangot in Paris in 1930.
In the 1940s, his figurative paintings including still-life and landscape compositions became completely abstract with interwoven shapes in strong colors. From 1941, the contract with the gallery Louis Carré allowed him to devote himself entirely to his art. Here he had his solo exhibition in 1948 and in 1965 as well. He participated in the Venice Biennale in 1954, where he established his lyrical abstraction depicting forms and colors in a poetic attitude.
In 1970 he received the Grand Prix National des Arts. In the following years retrospectives of his works were organized and he could gain more fame. In 1986 a significant retrospective exhibition was held at the Grand Palais in Paris, and thanks to Estève's donation of his major part of works the Estève Museum opened in 1987 in Bourges.
In 1995 Estève settled back in his hometown. His work has been highlighted through exhibitions and retrospectives held in well-known museums and galleries around the world including Tate Gallery in London, the Museum of Modern Art in New York, Pompidou Center in Paris, and private collections.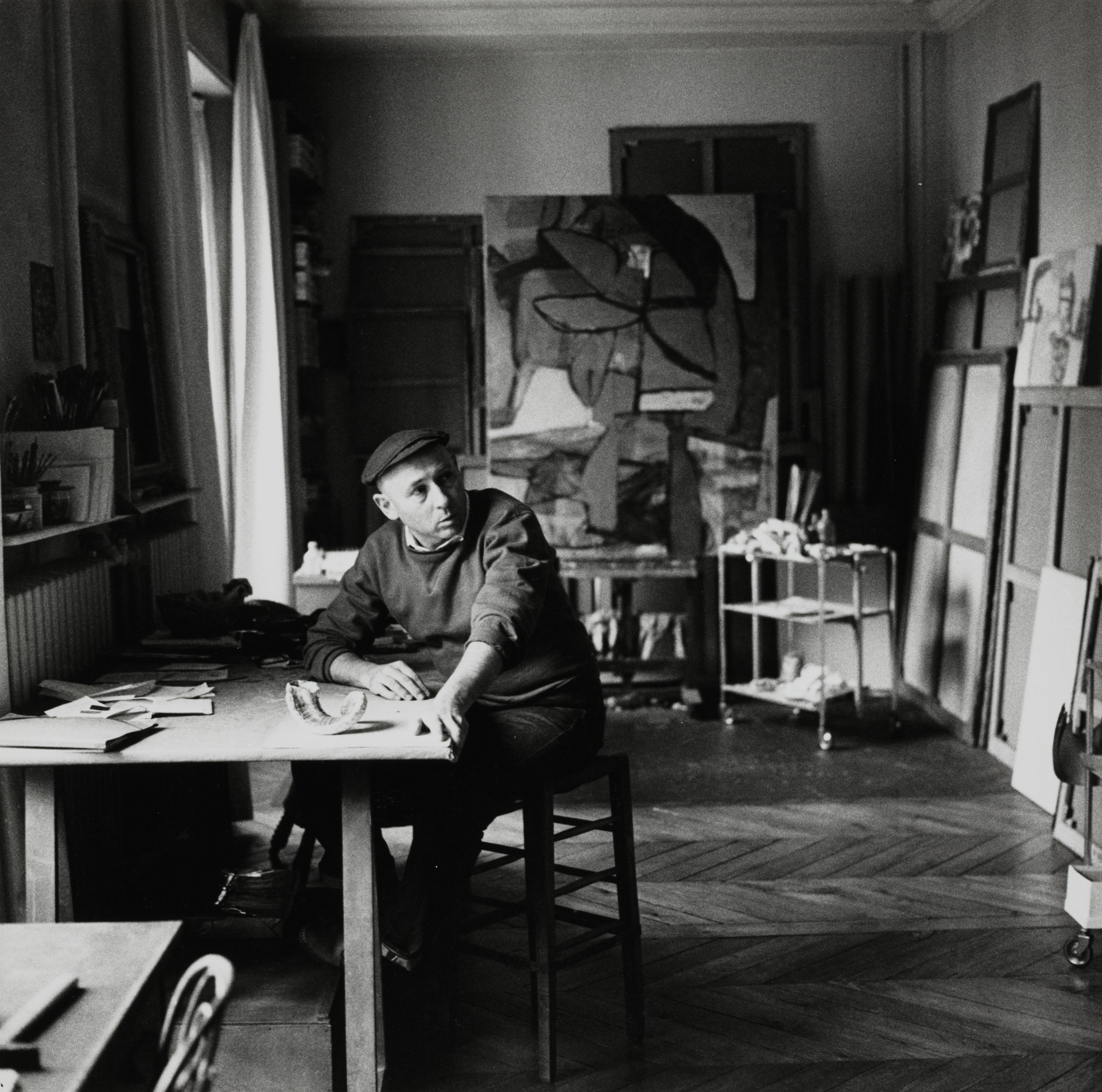 © Maurice Estève © SAIF © Paris Musées, musée d'Art moderne © RMN-Grand Palais / image ville de Paris
SELECTED SOLO EXHIBITIONS
2006
Monotypes de Maurice Estève, 1963-1964, Galerie Daniel Gervis, Paris, France
Maurice Estève 1904-2001, Paintings, Watercolours, Drawings and Monotypes, The Redfern Gallery, London, UK
2005
Galerie Claude Bernard, Paris, France
Le Monotype, un forme de l'unique, Estève Mueum, Bourges
2003
Galerie Claude Bernard, Paris, France
Les étapes de la Creation, Estève Museum, Bourges, France
2002
FIAC with Galerie Claude Bernard, Paris, France
2001
Galarie Tendances, Paris, France
1998
Galerie Louis Carré, Paris, France
1994
Galerie Louis Carré, Paris, France
1992
FIAC with Galerie Louis Carré, Paris, France
1990
Galerie Louis Carré, Paris, France
1987
Inauguration of the Estève Museum, Hôtel des Echevins, Bourges, France
1986
Retrospective, Réunion des Musées Nationaux, Grand Palais, Paris, France
1984
Tribute to Estève, Salon d'Autumne, Paris, France
1983
Proposition pour une Rétrospective, Maison de la Culture, Bourges, France; Musée Bertrand, Châteauroux, France
1982
Galerie Monique Prudhomme, Culan, France
1981
Musée Cantini, Marseilles, France; Musée de l'Etat, Luxembourg; Musée de Metz, Metz, France
1978
Galerie Claude Bernard, Paris, France
1977
Galerie Claue Bernard, Paris, France
1974
Neue Galerie, Zurich, Switzerland
1973
Galerie Claude Bernard, Paris, France
1965
Neue Galerie, Zurich, Switzerland
1961
Retrospective, Kunsthalle, Basel, Switzerland; Kunstverein, Düsseldorf, Germany; Statens Museum for Kunst, Copenhagen, Denmark; Kunstnernes Hus, Oslo, Sweden
1960
Galerie Villand-Galanis, Paris, France
1956
Retrospective, Statens Museum for Kunst, Copenhagen, Denmark
1955
Galerie Galanis, Paris, France
1948
Galerie Louis Carré, Paris, France
SELECTED GROUP EXHIBITIONS
1947
Statens Museum for Kunst, Copenhagen, Denmark
1946
Stedelijik Museum, Amsterdam, The Netherlands
1945
Galerie Louis Carré, Paris, France
1943
Galerie de France, Paris, France
1938
Galerie l'Equipe, Paris, France
1937
Peinture Française, Svenska-Franska Konstgalleriet, Stockholm
1930
Galerie Yvangot, Paris, France (solo)
1929-1938
Salon des Surindépendents, Paris, France